ICONIC SCIALO BAKERY ON THE HILL CLOSES
The closure of the landmark bakery will have a serious impact on the culinary palette of Rhode Island's Little Italy.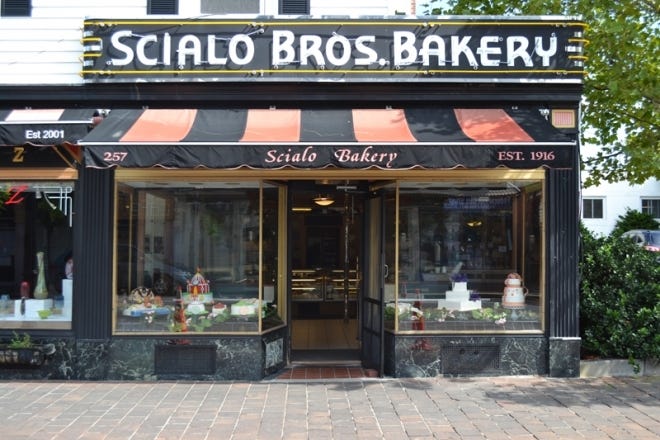 Buongiorno amici:
Food businesses come and go, sometimes wholly unnoticed. Rhode Island is experiencing the closure of several restaurants and shops for a multitude of reasons. The pandemic certainly did not help, and many of the places already on fragile terrain inevitably collapsed. Every time a business closes in a confined neighborhood, there is a loss of identity, a loss of belonging, and community ritualism.
The closing of Scialo Bakery on 257 Atwells Avenue in Providence ends a magnificent chapter of the Italian settlement's culinary rainbow. After 104 years, the famous landmark turns the brick ovens off. When Luigi Scialo landed in Providence (1916), from Pomigliano d' Arco near the city of Naples, he probably never envisioned that its Art Deco storefront would become a local and national icon in the baking landscape.
New Italian immigrants settled in large numbers in 1916, and by the spring of 1932, ward 13 (Federal Hill) accounted for 54.000 immigrants. Customers greedily gobbled down the torrone, a kind of nougat, and the sfogliatelle, a flaky, clam-shaped pastry, along with fresh daily bread and anything associated with house-made baking. Luigi baked the old-fashion way as he did in the old country. That was what he knew and what customers wanted: mouth-watering confections prepared with love, care, and quality. For several decades, the practice went on pleasing the palates of discriminating patrons who stood in line for hours during holidays for the delicious take-home, especially the Italian immigrants who rediscovered those childhood flavors in Providence. There is nothing tastier than the food you remember.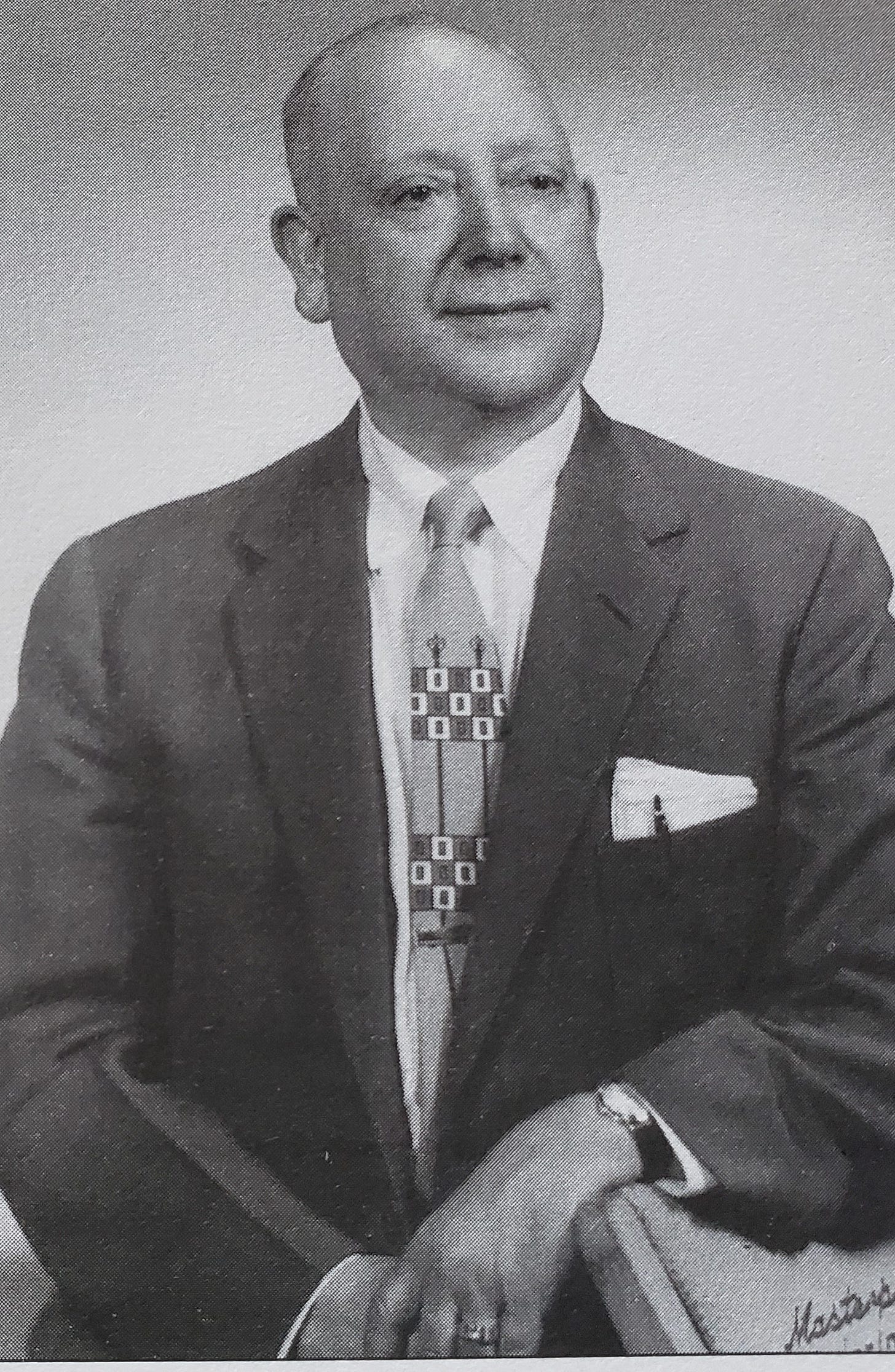 Luigi Scialo founder of the bakery was the son of Felice and Carmela (Fico)
When Luigi passed in 1993, at the age of 103, the daughters, Lois (Scialo) Ellis and Carol (Scialo) Gaeta, carried on the family tradition, owning the bakery since. The two sisters learned the bakery business since childhood. Growing up above, the shop had some tasteful culinary rewards. Still, Luigi prohibited the girls from taking an active role in the operation. He felt that running a bakery was a man's job, while the girls studied and built a family. The very talented and savvy business sisters faced the arduous task of maintaining the impeccable image and quality untarnished.
It is not always a simple task to replace the iconic presence of a man who left his marking on artisanal craftsmanship. But that's not all. The bakery had another unfortunate experience in 1994 when a fire partially demolished the shop. The incident nearly destroyed the bakery's antique oil-lit foot ovens, and the sisters had to take out a loan to rebuild the shop and ovens. They lost seven weeks of work before the store reopened, and their employees could return. Scialo Brother's road was never an easy one to ride.
Despite the obstacles, sfogliatelle were still filled one by one, as they do in Naples today.
Many people don't understand the grueling hours behind those shiny pastry cases filled with struffoli, cake, cookies, biscotti, zeppole, and holiday treats. Hand-rolled bread, phyllo dough, and sfogliatelle take a lot of time preparing, which does not allow slacking, but requires obsessive discipline. The trade requires passion and physical endurance. Not everyone has to lift 50 pounds bags of flour as part of their job description.
Eating habits have changed in the past four decades. The new American finicky palate wants more flavor, authenticity, and premium ingredients. The organic, artisanal, gluten-free, hyper-specialized food revolution of the last decade has not been kind to the pastries and bread business. Old-type bakeries have been struggling to catch up to evolution.
Bakeries today are selling spelled donuts and boules, organic Parisian Miche, or whole wheat sourdough. The rediscovery of ancient grains and flours has changed bread's structure, turning it into a trendy product instead of a basic necessity. Besides, old Italian recipes are technically arduous and time-consuming, intermingled by a financial burden. Owning a bakery has very little sugar but overwhelming and gut-wrenching opposing sides. The long hours, the missed family gatherings, and the children that grow up in photographs are all part of the menu'. Not to mention the effect on one's health, such as baker's asthma caused by inhaling flour dust and other substances, prevalent in the trade when the shifts are 12 hours or more.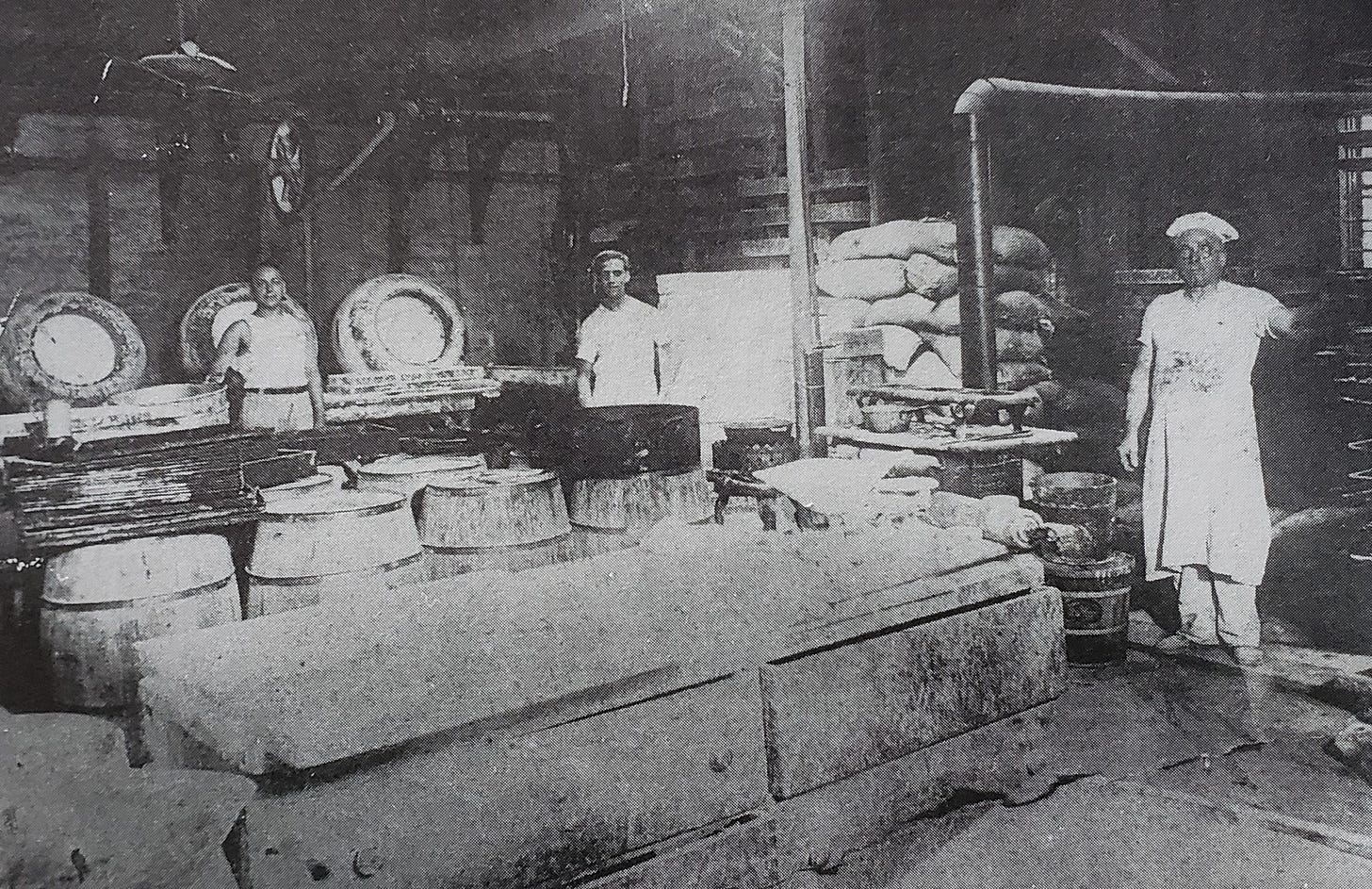 Luigi Scialo first on the left in 1920
Who wants the job?
Hiring is challenging in today's baking business. Bakers are also transient types, always wanting to move to a separate kitchen to learn new things. A company will spend monetary resources and time in training with no guarantee that the staff will stay. The new generation of bakers has other opportunities as far as ingredients and goals. There is much more enthusiasm in using pre-mixes than to follow the artisanal methods. And while the practice decreases labor cost, it also decreases talent and professionalism. Most bakers cannot use conversion charts correctly and have difficulties in measuring by weight. The cost of ingredients has increased considerably, reducing a marginal profit already slimming down.
It is no surprise that after so many years, even an iconic bakery such as Scialo can turn its oven off, especially when a new generation may not be interested in the business. With the passing of Lois (one of the owners), recently, the building and the company have sold to investors. A beloved educator and entrepreneur, Lois was able with her sister Carol to maintain the impeccable image and quality untarnished, just like Luigi wanted. The sister went a step further and positioned Scialo Bakery on the national platforms. Recognized numerous times on the Food Network, and Travel + Leisure the bakery has been awarded numerous accolades. In 2012 the National Organization of Italian American Women recognized Lois for her contributions to the preservation of Italian Culture.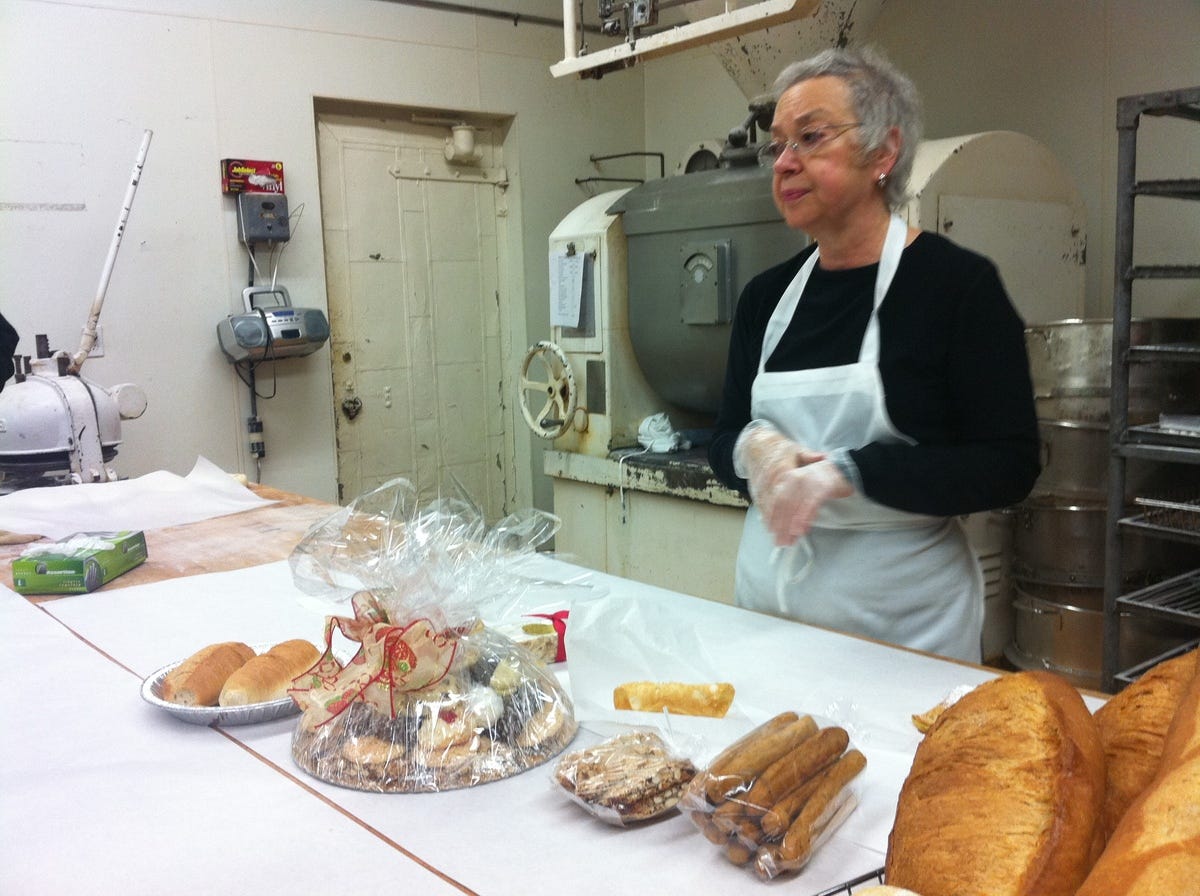 Carol Scialo (Gaeta)
The culinary rainbow on Federal Hill changes colors. For a neighborhood that made its fame on food, this is a time of reflection. There are no full-operating bakeries on Federal hill as of now. You will find sweets, confections, cakes, and dessert, but none of them surpass the mastery touch of Luigi, Lois, and Carol Scialo.
---
Thanks for reading. Eat safe and wear a mask! Ciao Chef W
Tune-in to our latest Flavors + Knowledge Podcast
Subscribe to News you can eat 24 Video-Cast on YouTube
For recipes, visit the chef blog. 

Note: The views and opinions expressed in News you can eat 24 newsletters are those of the authors and do not necessarily reflect the official policy or position of News you can eat 24. Any content provided by our bloggers or authors is of their opinion and not intended to malign any religion, ethnic group, club, organization, company, individual, or anyone or anything. Any general advice posted on our blog, website, or app is for informational purposes only and not intended to replace or substitute for any medical or other advice.
Photos via Huffington Post and Chef Walters Private Federal Hill Collection